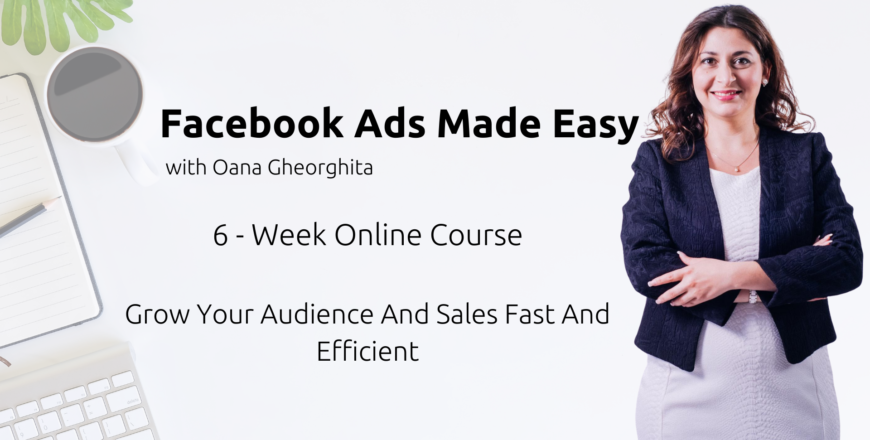 Facebook Ads Made Easy – Short Online Course
SOEM Digital is a certified digital marketing agency offering digital marketing services and training for small and medium-sized businesses, fresh online entrepreneurs, marketers that want to sharpen their professional skills, and Virtual Assistants who want to serve their clients professionally and profitably.
Either if there is a need in your business to upskill and train your employees or if you want o to learn how to get a grip of your social media, we are offering tailored training to serve your needs.
Our trainers are highly experienced in their fields of expertise, with worldwide recognized certifications from well-known specialists like Google, Hootsuite, Moz, SemRush, Hubspot, Adobe, and more.
The course will be delivered Online over 6 weeks as weekly online sessions, as dripping content. There will be a weekly Q&A Session, for each module via Zoom.
Who Is This Course For?
Small online businesses' owners and fresh solo entrepreneurs who want to integrate social media paid ads tactics in their marketing strategy and need to understand how to do it efficiently and profitably;
Marketers involved in social media planning and execution of paid ads who want to sharpen their skills and better understand how to the profitable ads for their business;
Executives that oversees the social media department and need to understand how to plan, control, and optimize the social media paid activities and budgets;
Virtual Assistants in need to cover all social media aspects for their employers.
What Are the Benefits Of This Course?
Keep up with the latest technological trends;
Understanding how this digital marketing channel can work for your business;
Learn to integrate Social Marketing into your digital marketing strategy;
Increase your business' brand awareness, customer base, leads, and sales through Facebook Ads;
Increase the number of relevant sales leads;
Reduce the cost with per lead or per customer acquisition by creating high-quality and highly targeted ads;
Gain more confidence to make your business more socially active and visible.
What You Will Learn?
Introduction to  Facebook Networks;
How to use Facebook Pixel;
How to research on audiences;
How to create your audiences;
Content creation for highly convertible Facebook ads;
Understanding how Facebook Ads works and the type of ads available;
Understanding different campaign objectives
Understanding Ad Campaign Structure ;
Understanding Facebook Ads manager;
Bidding strategies;
Ad planning and implementation
Ad Policies;
Facebook Strategy;
 Budgeting, KPIs and Reports;
Facebook paid campaign has been recognized to be one of the most powerful tools available now for marketers.
The high level of audience targeting and the way the bidding process is made to help the advertisers, make the businesses grow faster, and save money.
With so many custom requirements, algorithms changing and different audiences, it is understandable why you might feel lost.
We have spent a lot of time building up our marketing experience as well as digital expertise and certifications so we can make you feel confident after taking our courses.
We did the hard work so you don't have to do it.
We are making Facebook Ads easy for you. Enroll today and grow your business fast!
Enjoy your learning journey!
Introduction And Orientation
Lessons
1
Introduction To Facebook Network
2
Facebook Pixel & Audiences
3
Building Your Buyer Persona
4
Introduction To Business Suite & Ads Manager
5
Facebook Ads Best Practices
7
Create Your First Facebook Ad
8
Budgeting & Tracking Your Facebook Ads
This Course Is Available On-Demand
— 15.02.2021